The recipe for a Taaluma Tote pairs an ethnic print with recycled burlap coffee bags to create a limited edition backpack. The piece is constructed in a Virginia factory that provides opportunities for adults with disabilities. When the bag is purchased, a portion of the sale "provides a loan to a person in THAT tote's country" 1 using Kiva.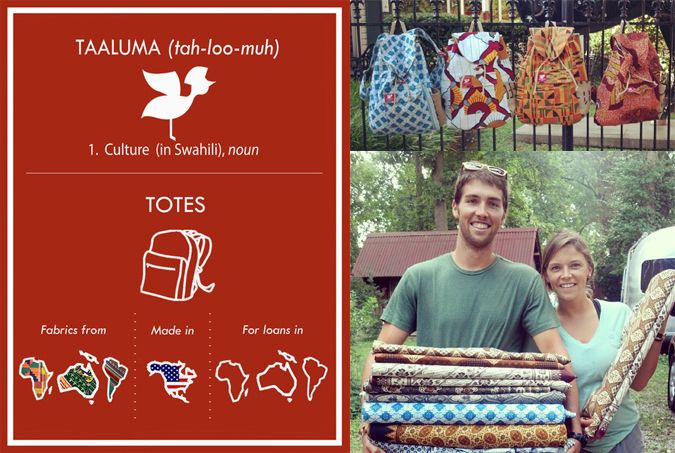 "They had a vision of an apparel company that wouldn't just try to make money, but would do so in a responsible way." 2
The kind hearts behind this business are Alley and Jack. They are a couple, Virginia Tech engineering grads, and lovers of travel. They took a risk and started their own company. Watch their video below and read Backpacks that give back to learn more about this duo.
browse the totes
I decided to purchase the Ghana tote in orange, blue, and green for future hiking trips with Jon. We are always drawn to this color combination, so it was an easy choice. I have admittedly been very lazy these last couple years. Being in a new environment will definitely get me out and exploring. Plus, carrying a unique backpack thoughtfully made will put some extra oomph in my steps. Sounds cheesy, but it is true. I feel so much happier supporting a company like this than I would running out to find one at the mall. Besides hikes, it will be great for air travel back to Vegas and drives up to Seattle (can't wait for baseball season!!).
Disclosure: I learned about Taaluma Totes through Alley. She noticed my interested in ethnic prints and reached out via email. I received wristbands for spreading the word. You can also get wristbands, find out how.
---
Sources
1 Kiva
2 The Roanoke Times
Find more links to what others are saying about Taaluma Totes on the press page