Jon and I recently lost our Orange to a disease called FIP (feline infectious peritonitis). It was heartbreaking and sudden. I hope none of you ever hear your vet utter that acronym. After online research (links provided at end of post) and conferencing with our vet, we have learned that FIP is a rare mutation of a common cat virus, but the mutation mostly occurs in kittens. It is currently viewed as untreatable, with life expectancy of only days to weeks after symptoms occur.
In mid-July we noticed the following changes in Orange: she appeared to have lost weight, she was hiding out more under the bed, and she was sluggish. Our vet did a check-up and found a filled anal gland, which was easily released. Our vet was confident that Orange was healthy but had been experiencing discomfort due to her anal gland. She suggested the procedure be done every couple months. But just to be sure nothing else was going on, blood was also drawn. The results showed a seemingly healthy cat. Last week brought drastic weight loss and another appointment with her vet. This time, the vet noticed Orange was sensitive in her abdomen, so she was taken out of the room for an x-ray. The vet returned with an x-ray image of unrecognizable intestines and yellowish fluid that she had extracted from Orange, all indicative of something I had never heard of before, FIP. We were informed that the next step was giving Orange the best we could during her last days.
When pets are faced with a terminal illness, it is important that we remind ourselves to be selfless in our approach. It helps to establish a "When is it time?" moment. Our vet advised us that we would know that moment when Orange stopped enjoying her favorite activities. Orange was less agile, but still cuddled with me and kneaded on her favorite cat bed. But every day brought more and more weakness due to her loss of appetite. Since she was not eating much on her own, I gave her watered down high calorie food using a syringe. By Monday, it felt selfish keeping her alive. I saw Orange do the usual walk to the cat room, but then squat just feet away from the litter box. I called my husband knowing the final conclusion. It was time to take her in that day.
She loved to cuddle with Squeeze.
In the end, I find it helpful to reflect on how much Orange enjoyed life with us and our family of cats. She started out as an abandoned kitten in a cardboard box at a Wal-Mart (said the foster parent). We first saw her in 2010 at an adoption event at the Town Square Mall. At the time, we already had Chooch, Kunu, and Squeeze. Adding a fourth cat to the mix seemed crazy. But months later we saw her again at another adoption event. After holding the purring cat in my lap, we knew we wanted to share our home with her.
My crazy cat lady side is about to show...the cats hang out with us during dinner. As I walk up the stairs with my dinner plate, Padre bolts in front of me and takes my seat (which I gladly share). Orange was usually already lounged on the table patiently waiting for whatever treat I had for them that night.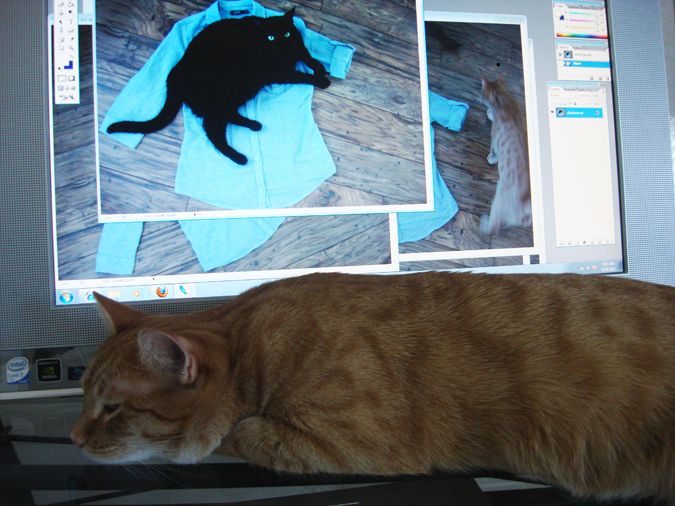 Many blog posts have been written with the companionship of Orange. Whenever I sat down at the computer, the pitter-patter of her feet would soon approach. Next came the I'm here meow, followed by a quick and considerate investigation to make sure I was not barelegged, and then the leap onto my lap. Much purring and head rubbing ensued.
Thank you for taking the time to read my lament-laden post. For those that found this post because your cat has FIP, I am deeply sorry. These are some trustworthy sources I would like to pass along to you:

Information from the veterinary schools of Cornell & UC Davis
Sock it to FIP - a UC Davis group looking to spread awareness
FIP Mutation - possible hope for the future