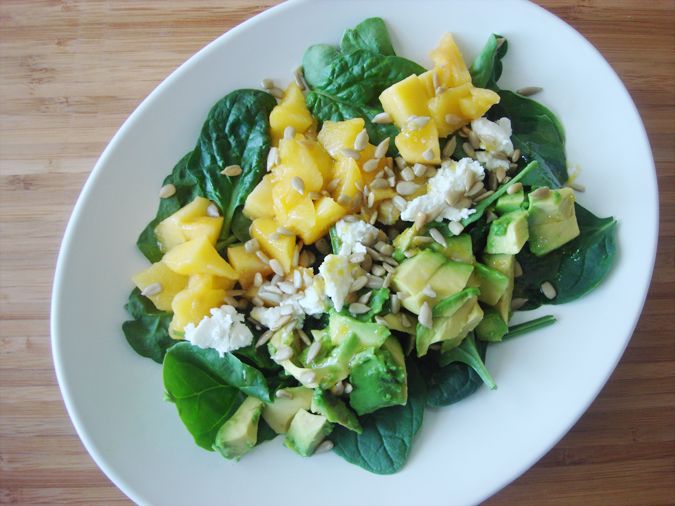 Last summer I was inspired by a Cooking Light recipe for a Prosciutto, Peach, and Sweet Lettuce Salad. So here is how I spun the recipe yesterday, which started my first full week off from school (woo-hoo!):
Ingredient List
handful or two of spinach
1 peach, diced
1/2 avocado, diced
goat cheese
sunflower seeds

for the dressing I combined olive oil (about 2 tbs), a couple squeezes of lemon, a few grates of lemon zest, a squirt of honey, a grind of pepper, and the tiniest pinch of kosher salt
Notes and Tips
When formulating salads, think of it this way: lettuce, 2-4 base ingredients, 1 cheese, 1 nut, and 1 herb.
A healthier way to approach dressing is to use olive oil, honey, pinch of salt and pepper, and your choice of fresh citrus juice and zest.
What to do with the other avocado half? My tactic for the least amount of browning is to wrap the half with the pit tightly in plastic wrap. If I have a lemon or lime available I will squirt a dash of that before wrapping, but it is not necessary. I refrigerate and use within a day or two. Since the exposed surface area is minimal, the browning is not too bad. Just remove the pit and shave off a thin amount from the top layer.
Padre loves goat cheese just as much as I do. He is my little vulture in the kitchen. :)