Ping and Tim traveled down to Vegas once again and I got to visit with them quite a bit. Lunch at Bachi Burger and then some strolling around at Town Square Mall, hanging out at the MGM pool, and a night out at City Center. For pics of the first two events and reviews of the food, head over to Ping's post. Here are some images of our night out...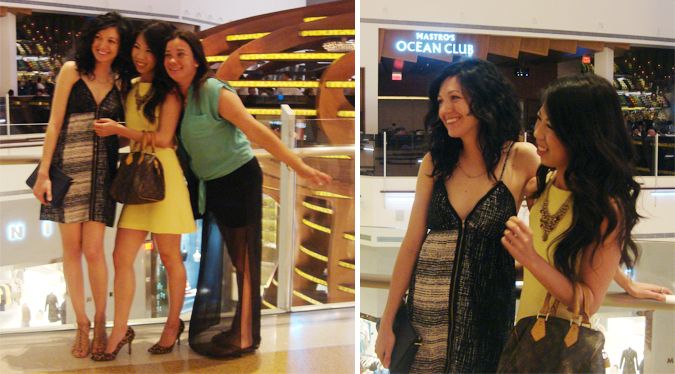 The four of us (us girls and our guys) had dinner at Mastro's Ocean Club (I had the opakapaka...amazing!). We then took some pics around the shops at Crystals in City Center. The woman above was passing by and basically asked to photobomb us! I did not know my way around City Center at all, but we ended up at the Aria where we had dessert at Jean Philippe, Ping and my husband did a little bit of roulette, and then we all sat in a lounge and listened to some live music. My favorite was the drunk guy singing along with the band's cover of "Wonderwall" by Oasis. He was dancing and belting out the lyrics. Ping had the idea to tip him. I regret not having any pictures of our time at the lounge!
cocolove dress (reviewed in 2011), J. Crew purse (review), vintage Avon necklace
This dress has not gotten a lot of wear due to fit concerns around the bust. However, I have now resolved this issue with some removable padding. The necklace is a new and special find. I have mentioned my grandma's jewelry box before. This piece came from another jewelry box of hers that was stored away in my parent's garage. I have been wanting to uncover box number two for the longest time, and was excited to have found it this spring.
Check out our last meetup in Vegas here.