As I continue on my personal challenge to place greater emphasis on where my purchases originate, my final decision to buy can be narrowed down to the word transparency. To me, it means that a company does not hide. Pride is shown in the process and the people. In addition to the recently featured One Mango Tree, Marine Layer is another company that I find refreshingly transparent, and I am glad to support these guys. Here are some company highlights:
- Free shipping and free returns. Thank you, thank you, thank you!!
- Sense of humor. Especially present on the FAQ page
- Their production and manufacturing process is commendable:
"...every step of our production process occurs in California. This minimizes our environmental footprint and supports 3 American factories that have been in business for over 25 years."
Marine Layer Women's Active Hoodie, size xs in navy.
Approximate measurements: 22" length from mid-shoulder to bottom, 16" width at mid-point and bottom, 24.5" sleeve length from shoulder seam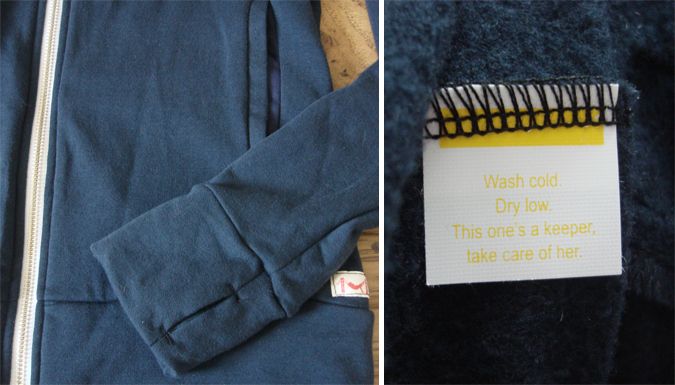 The interior of the pockets has a color (very slight) and texture variation. An unexpected bonus...thumb holes!!
Besides the comfy hoodie, I would also recommend checking out their Slub V tee (seen on me in xs here), which has been the most reached for item in my closet since purchasing in September.