One Mango Tree Twisted Hobo - Little Bottles
My shopping happiness used to be fulfilled by steeply discounted sale finds. However, this full price (plus shipping @ $8.95) purchase brings a better rush of joy, because it comes from an ethical company that I know is deserving of my business. One Mango Tree offers items that are sewn by artisans who are paid generously, are respected, and have an improved life because of their employer. Transparent, empowering, thoughtful...these are just some of the words that come to mind when I read about the working conditions at One Mango Tree. Here is my favorite example of what generated those thoughts:
"In 2011, as most people in Northern Uganda had returned to their villages, we wanted to give our One Mango Tree tailors the same opportunities. Many women had come to rent homes in town to work for One Mango Tree, and only saw their families occasionally. They missed their children, and longed to be back in the village, digging their gardens and being home with their kids. We decided to implement a work-from-home program, allowing each tailor to return home with her sewing machine. The ladies still come together once a week, now in our production manager's (Apiyo Prisca) home. They pick up cut pieces of fabric to make handbags, and bring the finished pieces back the following week."
Source: Uganda Workshops
Exploring the "about" pages at One Mango Tree gives you an immediate sense of connection. You are united with everyone and everything that relates to the company. The staff and the artisans greet you with warm smiles. As mentioned above, you are provided with a look into the working environment. Additionally, both creator and consumer are given the unique opportunity to connect via a "thank you" message.
This is perfect for those that frequent the beach or poolside. The overall length measures about 29", with a width of just over 12" (which expands due to the 6" depth) and length of 14" (measured from bottom seam to strap seam).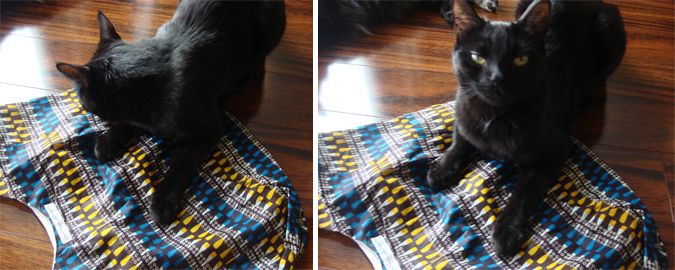 Padre immediately claimed the bag as his own. He loves to dig his claws into fabrics, so I had to save this from the damage he could have wreaked.
Each bag is adorned with a tag that reveals the artisan. A big thank you to Ajok Lucy! :) I imagine that Ajok and her coworkers must be so proud and blissful when they are sewing.
I will leave you with this line from the "What We Do" page:
"Every dollar we spend shapes our world. We can choose to support ethical manufacturing by refusing to settle for cheap, fast fashion and by seeking a deeper connection to the people who make the things we buy. We work to educate consumers on the importance of this choice and the impact of conscious consumerism."
To find out if One Mango Tree is available near you, check the stocklists page