Jon and I recently completed a renovation in our master closet. We are really enjoying the results, so I want to share with you the products that we used and provide some tips should you choose to take on this project:
STEP 1: What don't you like about your closet? How do you envision your new space?
The picture below shows the downside of our closet before the remodel. At left: Although I had two full racks of space on my wall, many of my sentimental items were hidden by clothes. Middle: I wasted hanging space with a shoe bin. At right: The other two walls housed only one rack of hanging space. After making these observations, we deducted that my husband wanted more hanging space and I wanted more shelving.
STEP 2: Take measurements and create a basic sketch and/or shopping list. After previewing products on Rubbermaid.com and Lowes.com, I created the sketch below. It served as our shopping list when we went to Lowe's. Once there, we did veer from the original plan somewhat. The drawers (shown as the measured boxes) were not in stock. Plus, once things started to total up, we were not willing to pay over $100 for them.
STEP 3: Gather necessary tools A drill is essential. A level is helpful when hanging the support system. Use a stud finder to locate wood, which is when wood screws are used. When there is not wood, dry wall anchors and screws are used.
STEP 4: Installing the support system The first item to go up is the top rail. This involved some work because two of the walls called for two to overlap, which involves aligning the holes and making sure both rails were level. Once the railing is up, the uprights are installed 22 inches apart from each other. The nice thing is that the rail cover is the perfect measuring tool.
STEP 5: Brackets & shelving
After some trial and error, we found that the shelving previously installed in our closet worked with the Rubbermaid 12-in FastTrack Bracket. An up close look is provided in the image below. So the only shelving we bought was the HomeFree Series 4-ft Adjustable Mount Wire Shelving Kits, which we used on the entire back wall and as vertical storage on each side. This is a great way to stack jeans, store items in bins, display purses, or house jewelry boxes.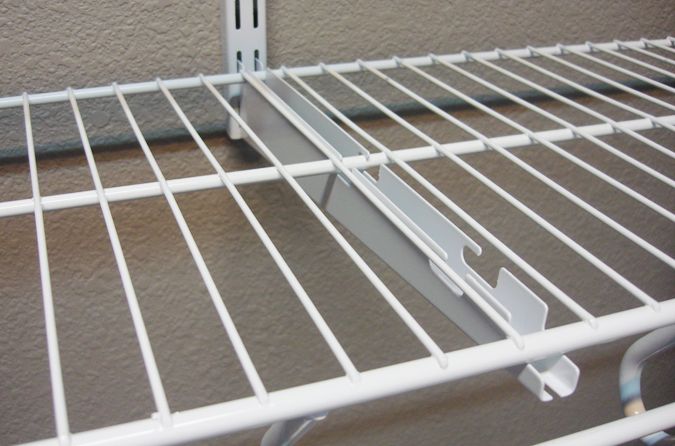 The adjustable shelving was simple to install. The overlap (above right) is not as obvious as I thought it would be.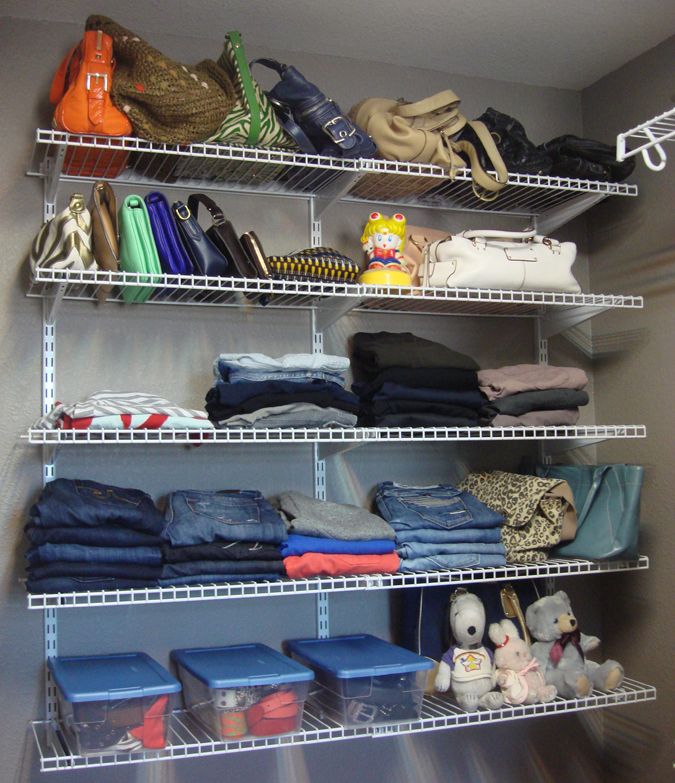 I love the storage on the back wall. Eventually I would like baskets to store belts and small items.
Above left is my side of the closet. I used the shelving that used to be on the back wall on the bottom, which allows space for dresses to hang from the top rack. Above right is my husband's side of the closet.
Not including tools and paint (no more baby blue!), this project cost around $450 and was accomplished over a weekend. Our next project will be painting our kitchen cabinets white. I am excited, but so nervous!
Have a great weekend! :)