CLOTHES: Banana Republic shirt, Levi's jeans (review)
JEWELRY: J. Crew & Banana Republic necklace (on sale), Crewcuts bracelet
ACCESSORIES: GAP belt, Merrell boots (review)
Padre is sporting a boot of his own! Important information for cat owners...a couple weeks ago we had to rush Padre to the emergency vet for a urinary blockage. Left untreated, it can be life-threatening. Male cats are much more likely to develop a blockage. Some of the main causes include lack of water (which is caused by a dry food diet, which we were feeding him) and stress (we were out of town for about a week during the winter break). Thankfully, we caught it early enough. For us, the sign that something was wrong was him licking and growling at his penis. Then, going in and out of the litter box about five times without expelling anything. Each unsuccessful attempt involved yowling and hissing (never heard him hiss before then). Since this took place in the evening, we were advised by our vet to take him to the emergency clinic which offers 24 hour monitoring by a vet. After two nights away, he returned home to lots of love and a new diet plan. All of our cats are being fed Natural Balance wet food in chicken and salmon. I feel so guilty for feeding them dry food all these years.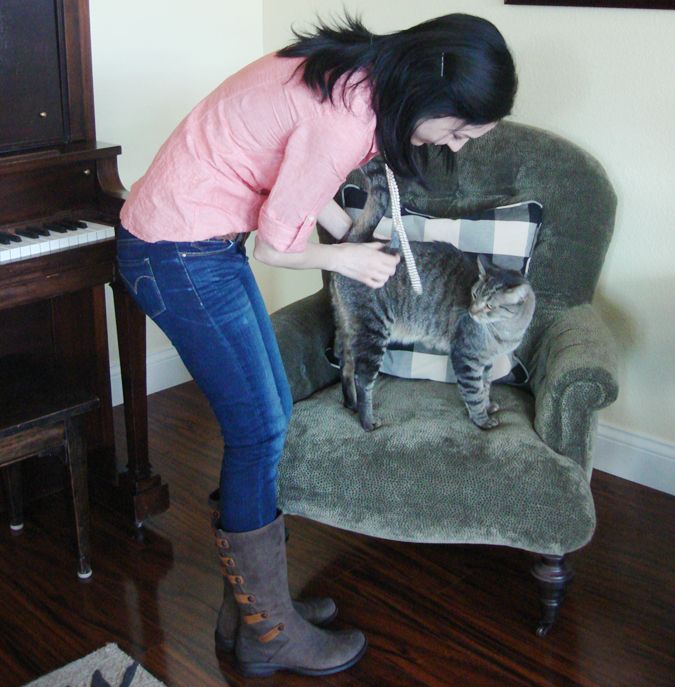 On the topic of fashion...If you missed my review of the Merrell boots, check it out here. I wanted to share the pic above to show you the detail on the sides and back. And to show Kunu. He may look angry, but he was actually purring. Also, definitely check out a Levi's store and try on these jeans (see my review). If it is not your style, Levi's offers others for under $100. Next time I make it down to the Fashion Show Mall, I might consider buying a duplicate pair.