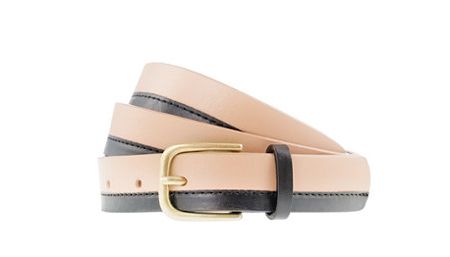 Two-tone leather belt is now $14.99 in stores
I stopped by J. Crew last night to pick up the Tillary Purse in brilliant purple. It came out to be $50.99 with my teacher discount. I also wanted to let everyone know that there is a great deal on a neutral belt. The two-tone belt has been reduced to $14.99 from $58! My final price turned out to be $12.74. If you are interested in either item, I suggest calling ahead to your local J. Crew store to have them hold the items for you.
Measurements and Color I went with a size small so it could be worn on my hips. The belt is 40.5 inches overall. The last notch is just below 31 inches and the first is at 35 inches. The belt is also available in a navy and green combination.