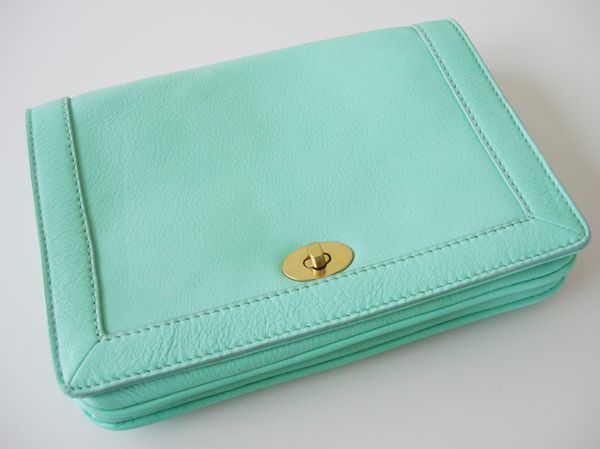 Free shipping at any price with code FREESHIP. Today only.
When I found out that the Tillary purse in bright mint went on deeper sale (thanks to Lilliana of The CheapChica's Guide to Style), I clicked on the link, added it to my shopping cart, and was ready to checkout. Problem was, it was not going into my shopping cart. I soon learned that someone else had made the purchase before I could. Knowing that items reappear on J. Crew's website, I checked quite frequently throughout the week. Since I usually wake up at some point in the middle of the night, I kept the iPad on my nightstand so I could do a quick check before falling back to sleep. Thanks to this tactic, I spotted the purse on a Friday morning in the three o'clock hour. After a slight panic because I could not remember my password (had to have it emailed to me), the purchase was made. That was my one and only crazy stalking week. It will not become the norm!
It was mentioned over at the J. Crew Aficionada that some stores are offering an additional 30% off sale items today. Although the Tillary in vibrant fuchsia is priced lower than the other two colors online, the in-store price of all three colors in Las Vegas (and most likely other stores) is $109.99. I did call to confirm that price again on Saturday, 9/2. With today's deal, you can score one for less than $80. For the teachers or students, it brings the price to just above $60! This is tempting me so much!
I also want to mention that all purses and shoes are shipped for free until November 8. No code is needed. Here are some cute purses for under $200:
TOP: little edie, margate, wixon
BOTTOM: invitation in plaid, baby brompton, invitation in colorblock, tillary (also in two other colors here)
Related Content
My most recent J. Crew fitting room post here