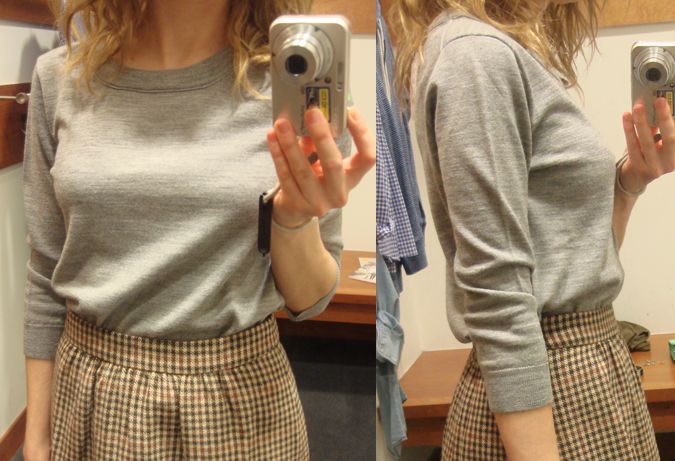 colorblock check mini, 00
tippi sweater in heather gray, xxs
I hope everyone enjoyed their weekends! My husband and I met up with some friends for drinks at Town Square Mall, so I tailored the night to include a quick stop at J. Crew before the get together. Both items above were a no. I did purchase the perfect shirt in mini-gingham in a blue print. The in-store sale price is $39.99.
colorblock check mini The houndstooth print is adorable. However, I do not have many items in my closet that I can pair it with. I might consider picking this up on sale for $30 or less. Maybe by then I will have some tops to match.
tippi sweater I was on my way to the fitting room when I spotted this sweater on a mannequin. I was quickly attracted the the color. Despite being such a basic sweater, I was ready to by this at its current full price because I knew I would wear it nearly every week. But when I did my tag check and saw dry clean only, it was a definite no. Does anyone own a tippi sweater and successfully launder it themselves?
(UPDATE ON 9/18 I added an update to this post about the LOFT ballet flats I recently raved about. Unfortunately, the metallic color is already rubbing off. See the images here).
Hope you have a great week!! :)