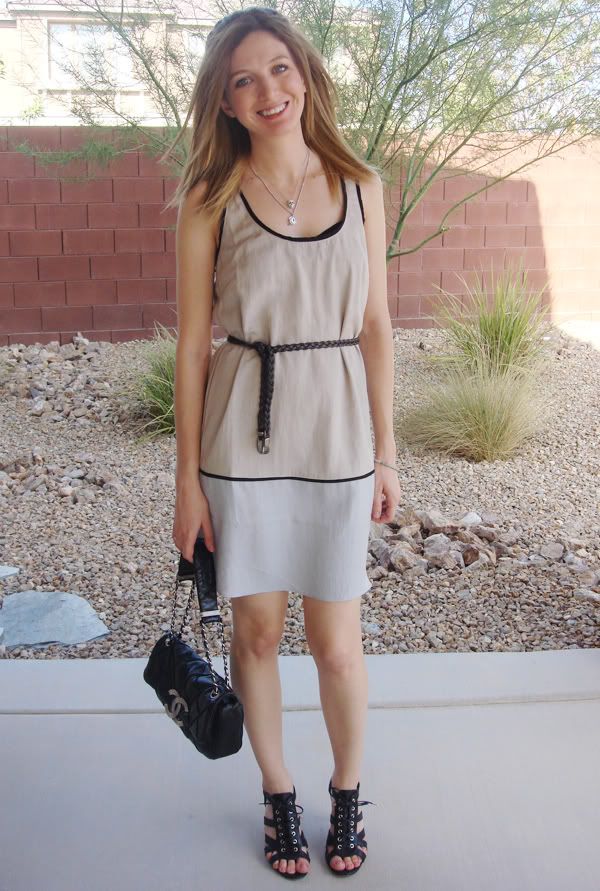 CLOTHES: sugarlips dress, free people bralette
JEWELRY: nadri skull necklace, christian dior necklace, judith jack bangle
ACCESSORIES: free people belt, chanel purse, ann taylor heels
I recently won Jessy's giveaway for a $100 gift code to spend at sugarlips.com. One of the items I chose was the flat line color block dress. Since this was an online retailer and I loathe returning items via mail, I tried to play it safe with my order. A dress seemed liked a good option because I have learned that width can be adjusted with a belt, and a loose-fitting top can be made more acceptable with a bralette. Just as suspected, I did need to solve those very problems. Despite the slightly larger fit, this has turned into my go-to dress because of its versatility. The styling shown above was for burgers and drinks at Fleming's. If you replace the evening purse and heels with a larger bag and flips flops, you will get my look for running errands.
Approximate Measurements and Garment Details
size xs / measurements in inches before wash & dry*
width at bust - 17
width at black piping - 18.5
length at center front - 26
length at center back - 32
all meterials: 59%, 38% polyester, 3% nylon; hand wash
* the length nor width changed significantly after washing and drying
Related Content
See how Jessy wears several pieces from sugarlips.com