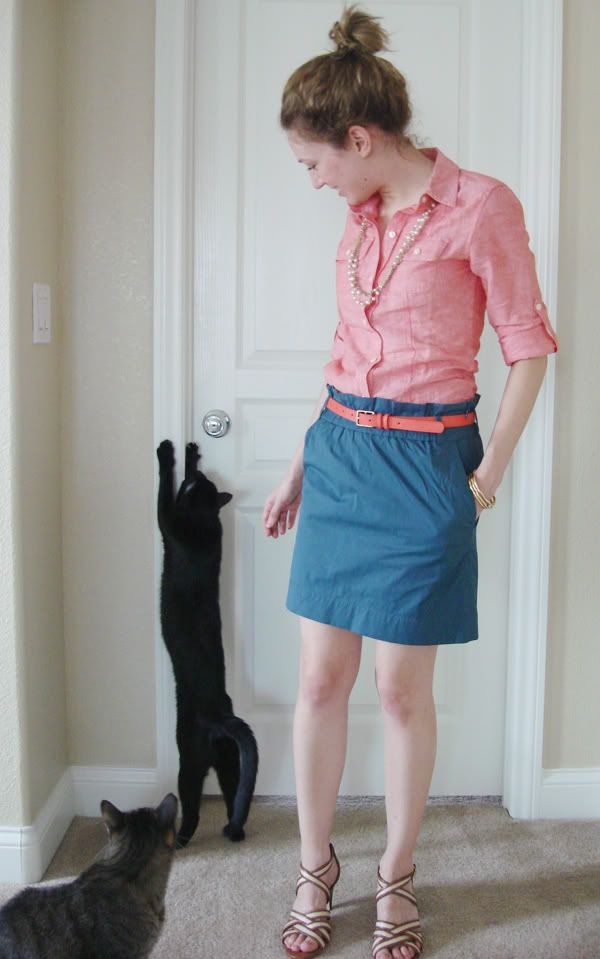 CLOTHES: banana republic shirt & skirt
JEWELRY: j. crew necklace, forever 21 bangles
ACCESSORIES: j. crew belt, banana republic heels
I am scrambling to prepare my closet for the first day of school, which starts on August 27 (teachers start on the 22). I feel like I am lacking neutral tops, so I ordered Banana's chambray shirt in two colors. Since it is too warm in Vegas to wear this shirt out, my review is based on my impressions after several minutes of walking around the house. Eventually, I will style something for work like I have shown above.
Banana Reviews vs. My Opinion
9 out of 13 rated the chest as too tight For reference, I wear a 30C or 30D bra (I am wearing this exact Betsey Johnson bra in 30C). I thought the chest fit fine. However, I can see how it might start to tug too much on someone with a larger chest than myself.
7 of 12 say length is as expected I am always nervous that the length of petite work shirts will be too short. Several of my work shirts cannot be worn with pants or capris because of this problem. I am pleasantly surprised that this top could be tucked into a pair of work pants and just barely pass the arm raise test. I will not be putting this in the dryer!
10 of 11 say sleeves are as expected On someone with very small arms like myself, the sleeves are slightly bulky and a little sloppy looking. Definitely not an item to wear if you have to look extra polished at work. Being a teacher, I feel that I can pull the look off so long as I pair it correctly.
Approximate Measurements and Garment Details When Buttoned
size oop / measurements in inches before wash & dry*
shoulder to shoulder - 14.25
width at bust - 16
smallest point at waist - 14.25
length at side - 15.75
length at center back at bottom of collar - 25
length of sleeve when unfastened - 11
circumference of sleeve - 23
65% linen, 35% cotton / machine wash cold
More Button Down Options
I have bought two of Banana's non-iron shirts over the years. I have found them to be on the stiff side, so I rarely reach for them. Here are some other options that look promising: