"Take a bowl full of colorful candies (M&Ms, Jolly Ranchers, jelly beans, etc.), close your eyes, and draw 2-3 pieces. Now use those colors (+ a neutral of your choosing) to form the basis for your ensemble.."

Thank you to Sew Petite Gal for hosting this challenge!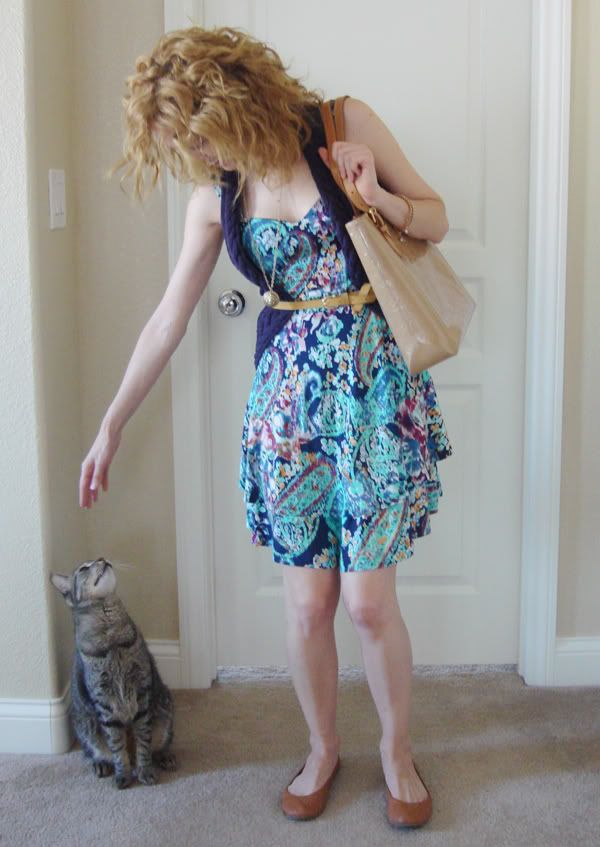 CLOTHES: free people dress, banana republic vest
JEWELRY: j. crew necklace & bracelets
ACCESSORIES: h&m belt, tory burch flats, louis vuitton purse
I usually play it safe with neutrals, so I am glad this challenge helped me to pair items in my closet that I never have before. Although the sweater vest makes this too warm for a Vegas summer, I might consider packing this for a trip to Seattle this summer (you may remember that is where I originally found the dress). But I will have to find some different shoes...read my review here and you will know what I mean!
Related Content
PFC #1 hosted by Jean @ Extra Petite
PFC #2 hosted by Kelly @ Alterations Needed
PFC #3 hosted by Sydney @ Petite Little Girl
PFC #4 hosted by Elaine @ Curls and Pearls
PFC #5 hosted by Cynthia @ Shorty Stories
PFC #6 hosted by Jess @ Stylepint
PFC #7 hosted by Jessy @ The Little Dust Princess
PFC #8 hosted by Gracie @ Radiator Sessions
PFC #9 hosted by Elle @ Fast Food & Fast Fashion
PFC #10 hosted by Liz @ Fashion for Teens
PFC #11 hosted by Alli @ Ski Petite
PFC #12 hosted by Khatu @ I Am Khatu
PFC #13 hosted by Annie @ Really Petite
PFC #14 hosted by Couture Coco
PFC #15 hosted by Megan @ Long Live Classy
PFC #16 hosted by Lauren @ Petite on a Penny