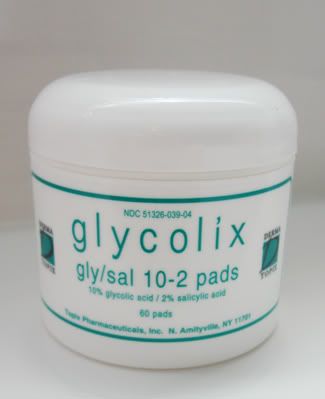 I am so excited to share with you an inexpensive product that has helped rid me of the painful boils on my jawline and neck. Once I reached my mid-twenties, I started to experience deep, unsightly, and, worst of all, painful acne. After Internet research and talking to women in the skincare profession, it seemed my only option was to go on medication due to its "hormonal" nature. In a last ditch effort to avoid popping a pill, I tried the Topix Gly Sal 10-2 Pads and they worked! So ecstatic, I wrote a review about my results on skinstore.com two years ago (please excuse my incorrect capitalization of spring):

"This product has helped me with my cystic acne, which frequently appeared on my jawline. I have not had one since I started using this product back in the Spring of this year! I only use this product in my nightly ritual (after I have washed my face). I follow up with a retinol treatment, Afirm 1x (will be boosting up to 2x next). Please note, I had been using the retinol treatment for several months longer than the 10-2 pads. The retinol has helped my "regular" acne (use it more for the anti-aging benefits), but the 10-2 pads have put a stop to the painful cystic acne."
As you read above, I believe that this product quickly cleared up my cystic acne. Over a year of being healed, I started cutting back the amount of times I used this product to about twice a week. My cystic acne did not come back instantly, but crept back during the winter of 2011. A couple months ago I decided to return to my nightly ritual of using the gly-sal pads, which solved my problem just as it had before. With those two experiences, I feel that I can honestly pinpoint my "cure" as this product. For $19.10 it is worth a shot if you are experiencing the same suffering as I once did!
How I use it in my nightly regimen:
DHC Deep Cleansing Oil

DHC Mild Soap with the Clarisonic Mia

Topix Gly Sal 10-2 Pads
SK-II Facial Treatment Essence

(insert an anti-aging product here)*
*I had previously mentioned that I use Topix Replenix Power of Three Serum after the Essence. I ran out of the serum, so I am currently using whatever anti-aging samples I have until I order more.
If you have any other products to recommend (or avoid) for cystic acne, please share them in the comments. Let me know if you try this product and how it goes for you! :)
Related Content
View my original skin care routine post