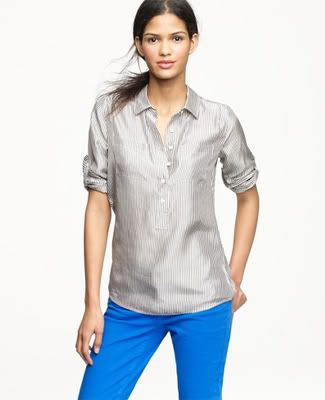 j. crew silk marlice popover, oo in french grey
style #56512 full price: $128.00
Hey ladies! I want to take a moment to share some personal things with you. Jon and I have been spending the weekend with our new nephew, Alex. I am twenty-eight years old, but I have never held a baby, until him. I want to hold him more, but I do not want to hog him!! The sad thing is, we may be leaving Alex in a matter of months. Jon and I have both lived in Las Vegas since we were twelve years old, but are getting ready to move on to another state. He has applied for jobs in: Washington, Oregon, Colorado, California, and Idaho. So many emotions right now...being in limbo is no fun!
And now for the intent of this post...a reader recently emailed me asking about some "Coming Soon" items, including the silk marlice popover from J. Crew. This is another item that has left me questioning the fit. I am very curious to try this item on again, because I am unable to make up my mind from these pics. The silky feel and slouchy sleeves have me wanting this item to work...but only for an amazing sale price! Help!