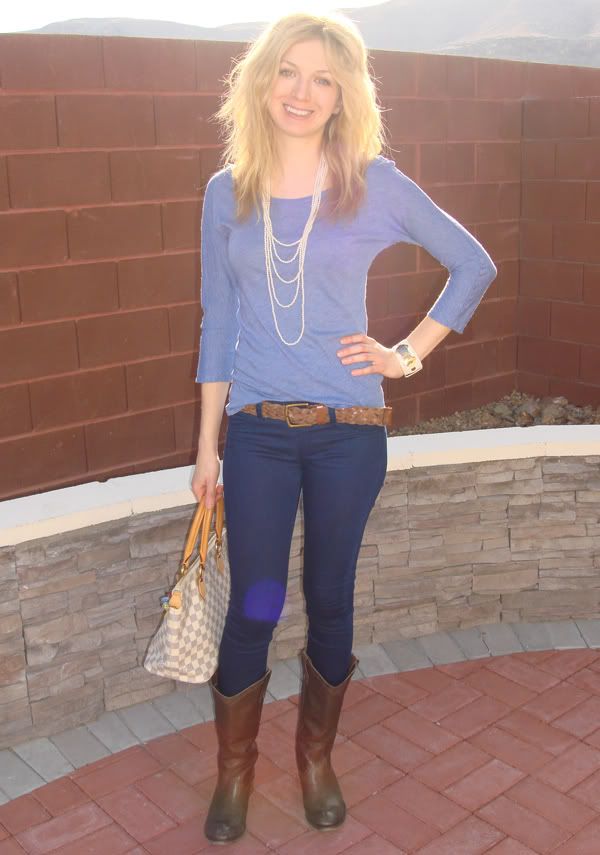 j. crew bateau tee, xxs in heather vintage blue
style #32362 my price: $34.50 $6.99

CLOTHES: gap legging jeans
JEWELRY: forever 21 necklace / h&m cuff
ACCESSORIES: unknown belt / frye boots / louis vuitton purse
For those on a budget, J. Crew may not seem like the place to shop. However, they offer amazing deals if you can wait for the sale price. You may remember the bahia hobo tote that I scored for under $13, which was originally $78. I have also found amazing deals on their belts. My newest obsession are their tees. The sale section at my local J. Crew is overflowing with these basic items at very low prices. Plus, there has often been an additional 30% off promotion during this holiday shopping season.
bateau tees, xxs in unknown color and emerald
style #32362 my price: $34.50 $5.94 each

heathered raglan tee, xxs
style #32362 my price: $49.50 $11.84

vintage cotton long-sleeve v-neck tee in stripe, xxs in vintage champagne
style #61038 my price: $39.50 $14.87

On Friday, J. Crew offered a promotion of an additional 30% off sale items. The sales associate even gave me an additional 15% off with my teacher discount (that negates what I said about the teacher discount back in November)! I scored the tees above for 45% off the sale price!
For a free shipping deal, try signing up for J. Crew emails. I provided the sales associate with my minimaestra@hotmail.com email (I usually use a different account), and received a "Welcome" message from J. Crew with an offer of 10% off my purchase plus free shipping.
Related Content
See my review of the J. Crew vintage cotton v-neck tee
See fitting room pics of the J. Crew vintage cotton long-sleeve v-neck tee in stripe
See me style the J. Crew raglan tee
Kelly discusses buying duplicate items