J. Crew bahia hobo, honey brown, style# 38126
my price $78.00 $12.96
J. Crew's customer service is great! I thought I ordered this purse during J. Crew's 40% off and free shipping deal. Hours later, I check my email and find no confirmation. Worried, I call to investigate. Turns out my order did not go through and my purse was already sold out online. The service rep took the time to find my purse in a J. Crew store (Natick, MA). Even better, when I received my order it was sold to me for an even lower price. The internet price of the purse was (and still is) $29.99, but the store price was $19.99. So they charged me the store price plus honored the promotion! Score! :)
This bag has me smiling. How could I not? Such a fun and quality piece for only $12! The straw is so soft. The strap is 100% leather and detachable. Important to note, it has no lining nor interior pockets. This is fine by me...I only need to carry about three main items: makeup bag, wallet, and phone.
If you are interested in the purse but it is no longer available online, try calling a local store or check online in the early morning. I have noticed that it pops back up online every couple days. Do not forget to check out See Chloe Shop for any available promotional codes before making your purchase.
Ann Taylor tee (item# 261101) xxsp / Old Navy shorts o
LOFT velma banded sandal 7
Free People belt / Judith Jack necklace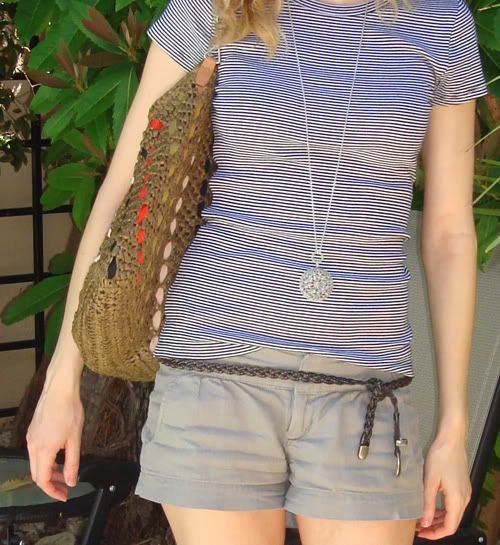 My mother-in-law taught me this trick for a long skinny braided belt...
it is just a simple knot!
This is Elliott (in-laws' dog) caught with a really mean face! Lol!
Laying flat with goodies inside. The ribbons are so pretty!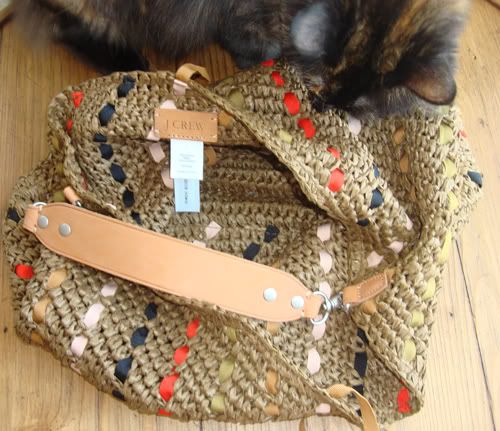 The inside is just like the outside. Remove that tag! I set off the grocery store alarm!
Measurements:
7" handle
10 3/4"H x 18"W x 4"D
100% straw / 100% leather
Any recent J. Crew finds?
Related Content
My Goodness, More J. Crew Reviews @ Easy Petite Looks
See my review for the shorts I am wearing