ancient stone pendant
shown in ivory
also available in coral, turquoise
style#: 20493045
current price: $28.00

I am still loving this fun summer necklace! The brassy gold color matches well with similar or mixed metal looks. The stone encased in wire varies, adding to its uniqueness.
web version (left) / mine looks like a heart!! (right)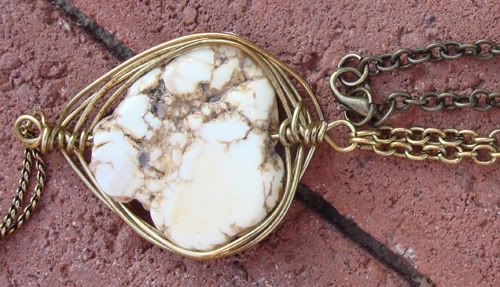 chain discoloration over time
styled for a casual dinner out
This necklace has two intended length options (the lobster clasp can actually fit the smaller links). The two fringe-style metal chains at the bottom are of unequal length. The stone is secured well. If anything should happen to the chain or fringe at bottom, the stone piece can be salvaged and easily re-attached to new chains. With close to twenty wears, I have noticed that the metal along the neckline has turned a darker color, however, it has never left a mark on my neck (see image). Jean offers great advice for this occurrence in her shopping for statement jewelry video. At the 2:25 mark she gives suggestions for maintaining inexpensive jewelry items.
This necklace has been on the market for quite some time now...hopefully a sale will hit soon! New friends of freepeople.com receive free shipping. Scroll to the bottom of their website to sign up.

Measurements:
32" chain (above stone)
Related Content
Another way I style the necklace
Ping @ All About Fashion Stuff styles outfits with this necklace: 1 2 3 4 5 6
More about the heels I am wearing
Additional ways to style the crochet top: 1 2