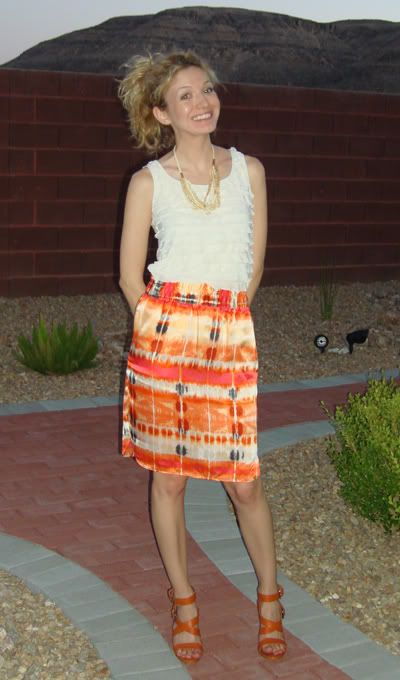 Current Items
Banana Republic silk ikat pencil skirt
size o, orange print
also available in blue
style#: 833146
my price: $79.50 $6.29

Nine West mayner heels
mirage spice
my price: $89.00 $35.60


This is my, "This was only $6!!" face!
Lots of bargains for me this week! You may remember my Ann Taylor heels. We also bought four dining chairs at Pottery Barn that are normally $229 each, for $99 each!! They were floor models, but hardly any scratches...nothing the cats would not do in a few months. :p And a $79 skirt for $6?! Ahh! So nice!
So, the skirt...I would prefer the oo, but for six bucks this is great!! Out of twenty-four reviews, this gets 3/5 stars on Banana's site. Some reviewers suggest ordering one or two sizes up. One stated that this was made for a "bean pole". Many complained that it accentuated their hips too much. Sounds like it was made for small and straight ladies!
The fabric feels great. I keep touching it! :p I also think the length is great...especially since I will be using it for work. The online description states "partially lined". *confused* It has no lining unless you count the pockets?! Lol!
Additional Item Details for Skirt:
~13" elastic band
~18.25 at widest part
~21" length
100% silk
dry clean only
Any recent Banana finds?
Related Content

See how Anh and Sydney style this skirt
Jessy of The Little Dust Princess blogs about how great the Nine West heels are.