Featured:
LOFT Black & White Combo dress
size xxsp
style#: #252676
my price: $69.50 $34.99

Ann Taylor Skye Oxford Laceup Sandals
black & natural
size 7, style#: 184761
my price: $198.00 $49.99

I went back-to-school shopping (specifically for shoes) today and hit some great sales!! An additional 50% off sale items at Ann Taylor! These heels are amazing! From $198 to $49.99!! Ahh!! I purchased two! The cats took their turns lounging in the box. :p
LOFT
I also found cute sale items at LOFT...which were an additional 30% off. I love that this dress can work for any season! It is unlined, so if I wear tights with this, I will have to wear a slip...adding that to my mental shopping list! Also, the material on the top part is a bit thin. I can just barely see my nude bra, but a cardigan, blazer, or vest can solve that problem.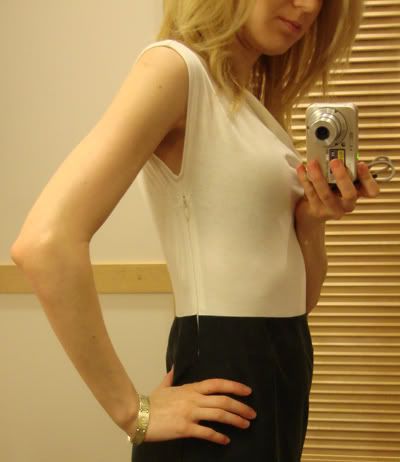 Already assembled an outfit for the first week of school! :)
Additional Item Details for Top:
~13.25" waist
~34" length
100% modal (top), 70% modal / 30% polyester (bottom)
unlined / dry clean only
Necklace and bracelet are sale items, no longer available online.
Necklace - SKU#89593134 / Bracelet - SKU#89593172
Hope you ladies were able to take advantage of the Ann Taylor sale! :)