Featured Items
aeire belle fleur poplin skirt
spring clover, size xxs
also available in soft cornflower
style#: 0703-4522
price: $34.50

aeire surplus cotton tank
chalk, size xxs
also available in light bark, sunset grey, navy mood, vintage melon
style#: 4495-4574
price: $19.50

ae freshwater pearl necklace
style#: 0482-1234
price: $15.50 $11.95

Meet the newest member of our family, Harmony. :) That is her foster name...still considering creating our own. I just call her "Lil' Lil'" right now...to distinguish her from "Little Girl" and "Littlest Girl". :) We adopted her through a local organization that fosters cats and kittens. When she was just weeks old, her and her siblings were found in a box in front of a Wal-Mart!! Poor thing! We can tell she was raised well by her foster family, as she is very affectionate! She loves rubbing her head and body all over, while purring non-stop! She still has not been officially welcomed by the other cats, but the hissing has stopped...not that it was ever terrible! Now they just touch noses, and walk away. Lol!
More Views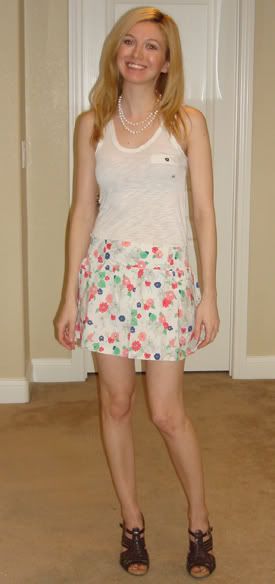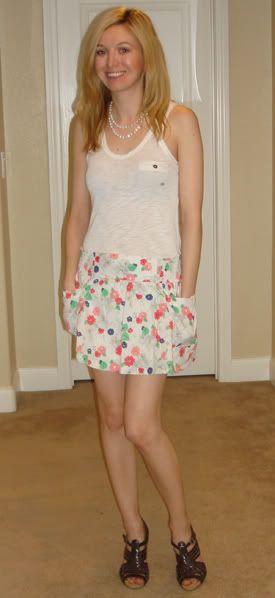 The Skirt
This skirt was the highly anticipated item of the order. I think I built it up too much in my head, because I am disappointed with the poofiness. I do love the pattern...darling! The stretchy waist is another plus. I wish so bad that I could wear it as a high-waist skirt, but that would be way too short! Not sure if this will be a keeper...leaning on yes now that I see it in photos. I am making the returns this weekend, so I have until then to figure it out. Thoughts?
Additional Item Details:
13" from top to bottom in back
11" band at waist
100% cotton
The Tank
I am surprised how well this top fit!! I love the jersey knit feel...I keep touching it! :p It has subtle "raw-edges" (as described by aerie). The pocket is fake, but pretty darn cute. This will go great tucked in to flowy skirts, or even untucked with jeans. This would work best layered over another tank...on the sheer side. The downside is that layering is not the best in one hundred degree Vegas weather.
Additional Item Details:
18.75" from center top to bottom in front
19.25" from center top to bottom in back
15.25" from arm holes to bottom at sides
80% viscose rayon / 20% cotton
The Necklace
I was able to pick this up for 70% off the sale price, so I figured at $5.02 each, why not get two? They are adjustable, so it works out perfectly!
Related Content
American Eagle Corset Tube Dress