Featured Items
ae slouchy scarf t
chalk, size xxs
also available in sherbet red, ebony grey, indigo day
style#: 2371-9725
price: $29.50

ae multicolor chain
style#: 0482-1428
price: $19.50 $9.95

Nine West Vintage America Collection:
bayles
beige suede, size 7M
also available in black, dark green, and dark taupe suede
style#: 189787
price: $129 $34.99


Since my last post, Lil' Lil'/Harmony has been officially welcomed by the other cats. It actually started about an hour after my last post. Little Girl started dashing around the loft, making playful circles around Lil' Lil'. Soon after, they were chasing each other around the entire upstairs. The next morning they were doing the same thing! We have also discovered that Lil' Lil' loves watching golf on television!
More Views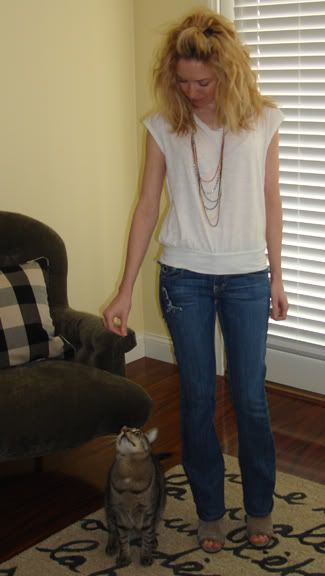 The Top
After discounts, this top came out to be $17.70. This is a keeper! I have very few white or cream colored casual tops, and even less slouchy ones. The ribbon can be tied looser, creating an off-the-shoulder look, but I prefer it as pictured above. The arm holes are surprisingly perfect. Notice in the last image that there is an extra piece of fabric sewn into the slit, so that an undergarment is not necessary (I am only wearing a bra). Another plus about the armholes, is that they do not touch my armpits, which means no discoloration over time!!
Additional Item Details:
~22.5" from top of shoulder to bottom of waist band
~15.5" band at waist
60% cotton / 40% modal
Nine West Booties
I am still holding on to my Nine West shoe order from an earlier post. I cannot seem to part with the open-toe booties. I really like them with these jeans (old pair of Taverniti's), as opposed to bare-legged. I will try the caged heels again around the house tonight, but if I still feel discomfort, those will be going back.
Related Content
Aerie: Belle Fleur Poplin Skirt & Surplus Pocket Tank
American Eagle Corset Tube Dress