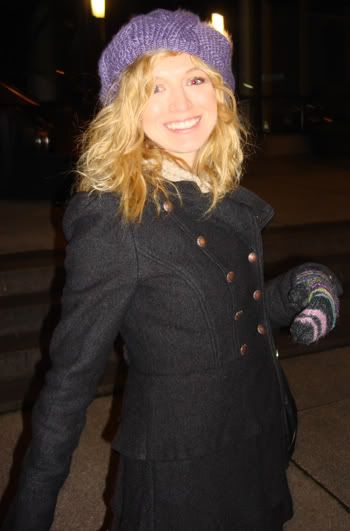 I survived the cold in Washington state! I managed to pack only a carry-on suitcase for a Tuesday through Sunday stay...very proud of myself. :) I packed light, knowing that I would be making a specal stop at the downtown Free People store, conveniently located only two blocks from me! Ping of All About Fashion Stuff turned me on to Free People. Ping, you have created a monster...I am in love wth the store! I spent the majority of my Christmas money there! Lol! There might be one opening in Vegas in the fall of 2011, but I want one now!! :p
Here I am walking to dinner in downtown Seattle. I was so excited to be wearing the fall remembrance coat! I also bought a hat and convertable gloves at Free People to keep me warm. I would have frozen without them!
Free People Fitting Room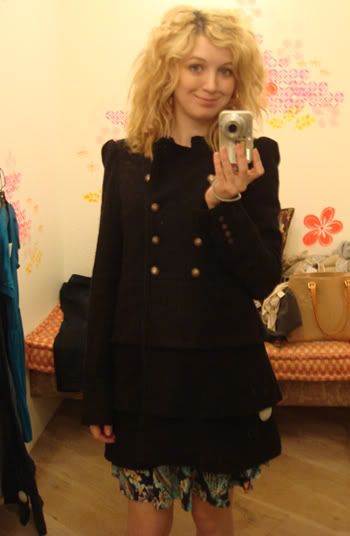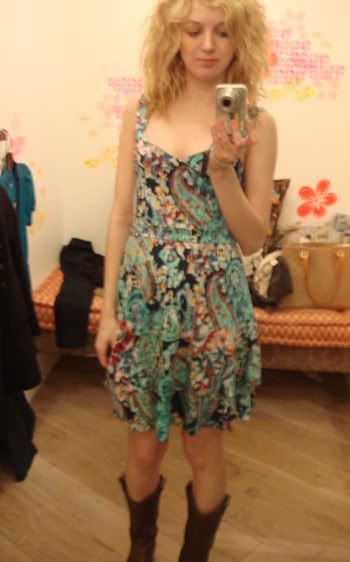 fall remembrance coat, size o
shown in black
style#: 19339373
price: $198.00 $89.95

abstract print dress, size xs
style#: 19563212
price: $98.00 $19.95!

How I Wore My New Items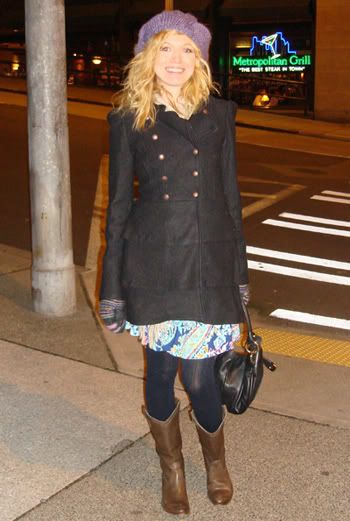 Almost to our dinner destination, Metropolitan Grill. I managed to keep warm thanks to my new items. I must say, I am slightly ashamed...black with navy and brown boots. That combo would not happen in Vegas with a closet full of options, but I needed to be warm.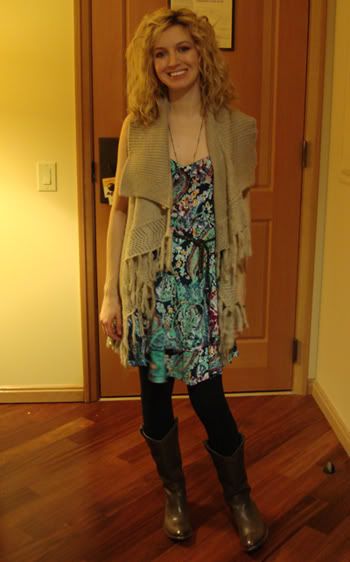 Yes, I wore this outfit twice, but this time with long johns under my tights, since we made a location change to 10 below weather. This was over the weekend when we went up to the mountains for a two-night stay. Next time, I need snow boots! I practically ice skated from the car to the restaurant, holding on to my husband's arm!
Other Items Worn
romeo & juliet couture shawl cardigan vest, small
shown in heat beige
style#: RJ20765

free people tights, size s-m in navy
style#: 18993535
price: $28.00 $19.95

frye boots, carson pull-on
size 7 in smoke
style#: 77686

free people skinny braided belt, black (I think it looks dark brown)
style# 20049615
price: $38.00

free people necklace
style# 18986109
price: $46.00 $19.95

Related Content

See the fall remembrance coat on Ping here, here, and here.
See the same coat on Elle here
See the shawl worn by me here