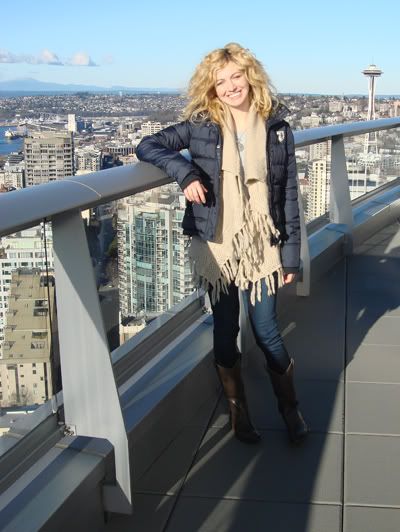 You may remember I made a previous post about my Black Friday purchases from the American Eagle website. My intention was to outfit myself for my Seattle trip over the winter break. Out of all the items, I only kept the coat, waffle crew, and vest. Actually, I brought the vest, but never wore it, because I was obsessed with what I call, "Elle's shawl." :)
Prior to my new love, the fall remembrance coat from Free People, this ae puffer jacket helped me survive my first two days in Seattle. I do not have any major gripes about the jacket. I would prefer for the label to be absent, but oh well. The fit of the jacket is slightly shorter than expected, but no biggie. What I absolutely love is how warm it kept me. I was able to survive my first two days in Seattle without gloves or a hat because this jacket has a hood, and extendable thumb holes. Surpisingly, ae.com does not mention the addition of the thumb holes. I doubt that is the appropriate name, but hopefully if you are unclear as to what I am saying, the close up pic (see below) will make it apparent.
Closer View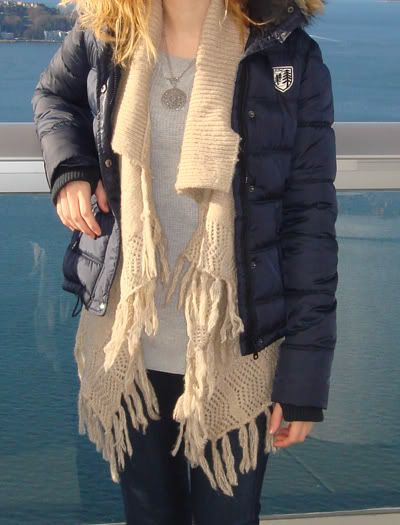 ae puffer coat, size xxs in navy
also available in chalk, olive, lavender, black
style#: 0386-1212
current price: $119.50 $79.95

ae cozy waffle crew, size xxs in oatmeal grey
also available in lavender whisper, pink drama, black, wineberry, pattern blue
style#: 0348-6179
current price: $34.50 $24.95

romeo & juliet couture shawl cardigan vest, small
shown in heat beige
style#: RJ20765

LOFT inky blue wash denim leggings, op
style#: 247737

frye boots, carson pull-on
size 7 in smoke
style#: 77686

judith jack round pendant convertible necklace
In the Mountains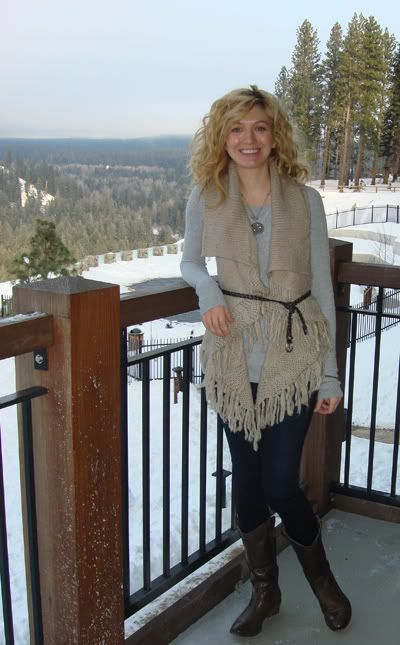 Again, here is a repeat outfit. The first time I wore it, it was only for a half-day, because I immediately changed into my Free People purchases. :p This shot was taken on the morning before our flight home. Ths made for a cozy airplane outfit. :)
free people skinny braided belt, black (I think it looks dark brown)
style# 20049615
price: $38.00
Help!!
I have already exceeded my bandwidth on the photobucket account I use for this site. My pics from the previous posts will not be visible until the 12th! :/ I tried using the blogger upload feature, but the pic quality is awful (see below). Any suggestions of a good photo upload service? Or do I need to do something different with the blogger upload?! Or should I just pay for the photobucket services?
Related Content

See the shawl worn by me in Seattle here and my first go with t in Vegas here