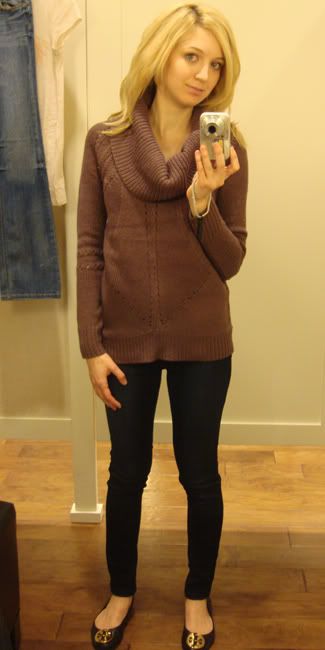 I am sure you know by now, but just to remind you, LOFT is offering a great deal on the cowl neck sweater. Normally priced at $59.50, it is offered for $25, today only! Use code HOLIDAY to receive free shipping. Unfortunately it was not available in petite sizes in store today, so I picked up an xs. When I got it home and tried it on for my husband he thought it looked too big on me. I will be returning it. I could not pass up a nice cozy sweater for $25, so I just ordered it online in an xxsp in desert mauve and an xxs in pebble heather. I will keep the one I like best.
Another current promotion is the 40% off your entire purchase, excluding new arrivals. Again, use code HOLIDAY to receive that promotion, plus free shipping.
cowl neck sweater
xs in desert mauve
style#: 248344
price: $59.50 $25
More Items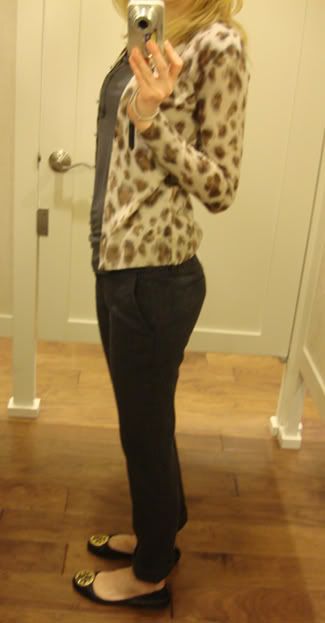 cardigan with ikat spots, xxsp in tropical sand
style#: 254234
price: $69.50

hidden chain tee, xxsp
style#: 252584
store price: $16.99
online price: $24.99

equestrian wool lean trousers, oop in charcoal melange
style#: 252105
price: $69.99

The Infamous Wool Trousers
I had to try these on after seeing them on Annie, Jean, and Kelly. I do like them, but feel my current shoe collection is unprepared for them. I only own one pair of classic pumps, but cannot keep the darn things on my feet, so I never wear them. Of course, booties would look strange with these pants. I also think that my open-toe heels would be too chilly.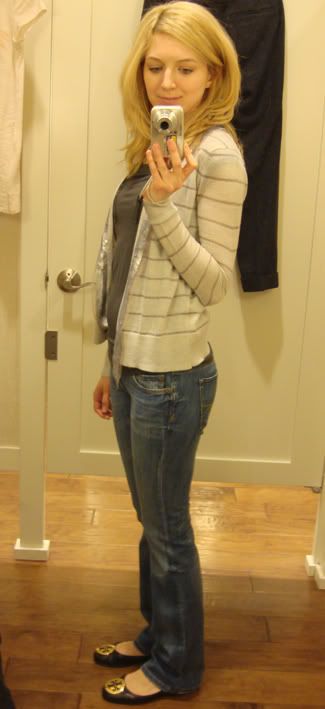 striped cardigan w/sequins, xxsp in beach sand heather
style#: 253449
price: $69.50

hidden chain tee, xxsp
style#: 252584
store price: $16.99
online price: $24.99

willow wash modern boot cut jeans, oop
style#: 247107
my price: $59.50 $13.99
The Cardigans and Jeans
Although I do love the style and fit of both cardigans, neither were purchased. I have been making a lot of purchases for myself lately, and felt too guilty about it. :/ The jeans I felt ok buying, since they were on mega sale. For some reason the store only gave me 30% off the sale price, but not 40% off. What is that about?! Oh well, they were super cheap to begin with.
Anyone else pick up LOFT items this weekend?
Related Content
See the wool trousers on Annie, Jean, and Kelly
LOFT Fitting Room Reviews - Sweater Edition @ SewPetiteGal
LOFT Cowl Neck Sweater - Fitting Room Pics @ Vicky's Daily Fashion Blog