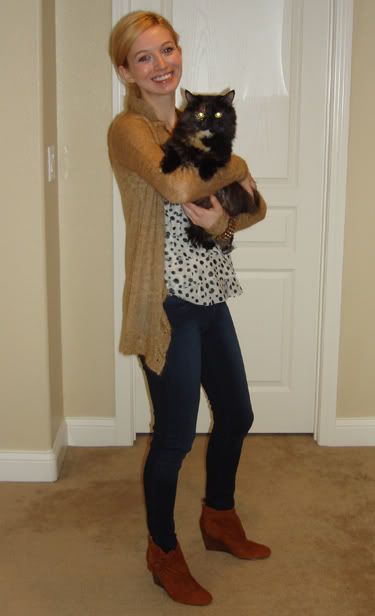 Another first for me over the weekend was shopping at Nine West. Thanks to Chloe, I knew they were having a great deal...30% off, plus $20 off on $75 or more. According to my receipt, I saved $91.49! Woo-hoo! One of my purchases included the orro ankle booties. Also, J. Crew had a nice deal...30% off $250 or more. My husband and I stocked up on some items. I got tights, a skirt, cardigan, and bracelets. He got socks. Lol!
Featured Items
j. crew cardigan, xs
style#: 31082
my price: $89.50 $34.99

nine west orro booties, size 7 in medium brown suede
my price: $99.00 $49.30

j. crew crystal pave elastic bangle
style#: unknown
my price: $39.50 $6.99
Also Pictured
LOFT spotted multi tier shell, xxsp

LOFT inky blue wash denim leggings, op
style#: 247737

banana republic necklace, no longer available
Additional Views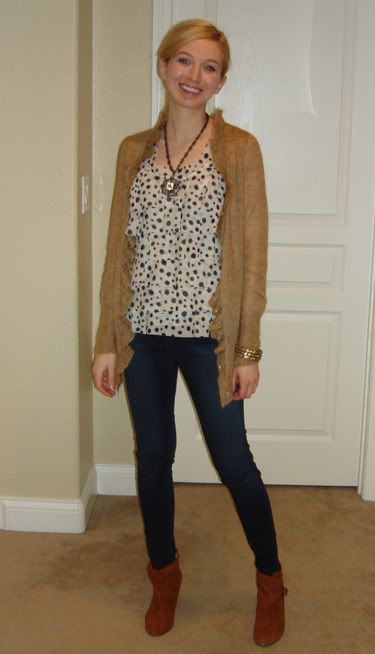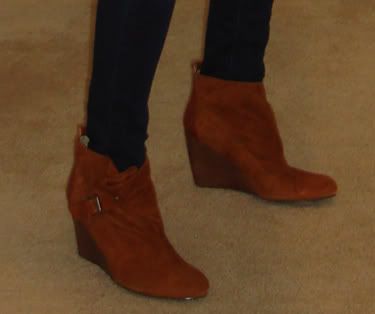 The Cardigan
This cardigan is great! I love that it keeps me cozy without feeling too warm. I do not like to wear heavy sweaters in my classroom. By the end of the day, nearly 200 bodies have entered and exited...gets pretty warm and sometimes smelly. :p
The Booties
I love them! They have survived an entire work day, even without additional padding!
Anyone else have good sale finds?